Können wir in der heutigen säkularisierten und pluralen Gesellschaft überhaupt noch von Gott reden? Und wenn ja, wie? Warum müssen wir von Gott sprechen? Und: Wer redet und an welchen Orten reden wir von Gott? – Antworten darauf sind auf unserem europäischen Kontinent und in den Kirchen teilweise sehr unterschiedlich.
Die Rede von Gott ist für den christlichen Glauben zentral. Wir nehmen jedoch wahr, dass u.a. die zunehmende Säkularisierung und die pluralen individuellen Religionsangebote die Rede von Gott herausfordert und an Sprache verliert. Die protestantischen Kirchen haben die Aufgabe, die Rede von Gott immer wieder auf ihre Sachgemäßheit und deshalb auf ihre Kontextualität und Zeitgemäßheit hin zu bedenken. Sie sind berufen, auf verständliche, provozierende und ermutigende Weise von Gott zu reden. Wie kann dies gelingen? Delegierte aus 15 Mitgliedskirchen und Kooperationspartner*innen der GEKE beschäftigten sich mit all diesen Fragen vom 1. bis 3. Dezember 2022 auf einer Konsultation in Bad Vöslau (Österreich) zu einem Entwurf des GEKE-Studientextes "Christliche Rede von Gott".
Auf der letzten Vollversammlung der GEKE 2018 in Basel wurde ein Prozess über die "Christliche Rede von Gott" angeregt. Auf der Konsultation in Bad Vöslau wurde nun der vorliegende Entwurf des Studientextes kritisch diskutiert und es wurden Leitlinien für eine redaktionelle Bearbeitung des Dokuments festgelegt. Die Diskussionen und Beiträge waren sehr intensiv und für die Weiterarbeit fruchtbar. Wir haben zusammen erlebt, wie Theologie unter den unterschiedlichen Mitgliedskirchen der GEKE entsteht. Es war spannend zu sehen, welche Akzente aus den unterschiedlichen Kontexten in Europa – von der Säkularisierung in den Niederlanden, der Position der Young Theologians bis zur Kriegssituation in der Ukraine – eingebracht wurden.
Die Konsultation wurde von Studiensekretär Rev. Prof. Dr. Thomas-Andreas Põder eröffnet. Generalsekretär Rev. Dr. Mario Fischer und Präsidiumsmitglied Prof. Dr. Miriam Rose, auch Mitglied der Studiengruppe und Redaktionsgruppe, begleiteten die Konsultation. Rev. Mart Jan Luteijn (Protestantische Kirche in den Niederlanden), Rev. Dr. Tomi Karttunen (Evangelische Lutherische Kirche in Finnland) und Prof. Dr. Georg Plasger (Reformierte Kirche in Deutschland) gaben zu Beginn der Konsultation Impulse und erste Gedanken in Auseinandersetzung mit dem Text. Am Ende der Tage in Bad Vöslau wurde eine Redaktionsgruppe von elf Personen festgelegt, die mit Hilfe der Ergebnisse den vorliegenden Entwurf des Studientextes bis zur nächsten Vollversammlung 2024 überarbeiten wird. Die GEKE-Konsultationen bieten auch immer wieder Möglichkeit für Begegnungen und Berichte aus den verschiedenen Mitgliedskirchen. So hat Prof. Dr. Dymtro Tsolin (Deutsche Evangelisch-Lutherische Kirche in der Ukraine) von der Situation der Christen in der Ukraine gesprochen.
Die Kirchengemeinschaft und die geistliche Dimension der Rede von Gottes erleben wir speziell in der Gottesdienstgemeinschaft. Deshalb endete die Konsultation mit einem gemeinsamen Gottesdienst in der Evangelischen Kirche A.B und H.B. in Bad Vöslau.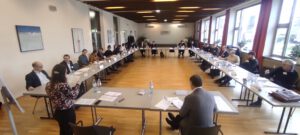 ************************************************
Can we still speak about God at all in today's secularised and plural society? And if so, how? Why do we have to speak about God? And: Who talks about God and in which places do we talk about God? – Answers to these questions are partly very different on our European continent and in the churches
Speaking about God is central to the Christian faith. However, we perceive that, among other things, the increasing secularisation and the plural individual offers of religion challenge the speech of God and lose its language. The Protestant churches have the task of constantly considering the appropriateness of God's speech and therefore its contextuality and timeliness. They are called to speak of God in an understandable, provocative and encouraging way. How can this succeed? Delegates from 15 CPCE-member churches and cooperation partners dealt with all these questions at a consultation in Bad Vöslau (Austria) from 1 to 3 December 2022 on a draft CPCE study text on "Christian Speaking of God".
At the last CPCE General Assembly in Basel in 2018 a process on "Christian Speaking of God" was suggested. At the consultation in Bad Vöslau, the present draft of the study text was now critically discussed and guidelines for editing the document were established. The discussions and contributions were very intensive and fruitful for further work. We experienced together, how theology comes into being among the different CPCE-member churches. It was exciting to see, which accents were brought in from the different contexts in Europe – from secularisation in the Netherlands, the position of the Young Theologians to the war situation in Ukraine.
The consultation was opened by Study Secretary Rev. Prof. Dr Thomas-Andreas Põder. General Secretary Rev. Dr Mario Fischer and Presidium member Prof. Dr Miriam Rose, also a member of the study group and editorial group, accompanied the consultation. Rev. Mart Jan Luteijn (Protestant Church in the Netherlands), Rev. Dr Tomi Karttunen (Evangelical Lutheran Church in Finland) and Prof. Dr Georg Plasger (Reformed Church in Germany) gave impulses and first thoughts in discussion of the text at the beginning of the consultation. At the end of the days in Bad Vöslau an editorial group of eleven people was determined, which with the help of the results will revise the present draft of the study text until the next General Assembly in 2024. The CPCE-consultations also always offer opportunities for encounters and reports from the various member churches. For example, Prof. Dr Dmytro Tsolin (German Evangelical Lutheran Church of Ukraine) spoke about the situation of Christians in Ukraine.
We experience the church fellowship and the spiritual dimension of Christian speaking of God specifically in the communion of worship. Therefore, the consultation ended with a joint service in the Evangelical Church A.B and H.B. in Bad Vöslau.