The CPCE has partnerships and dialogues with other churches, church fellowships and associations throughout Europe and all over the world. An important element of its theological work is dialogue with other confessional constellations, various cases of which have been running successfully for many years. An initial dialogue with the Methodist Churches of Europe led to an agreement in 1994 that formed the basis for four Methodist Churches and three United Methodist Church Conferences to sign up in 1996 to the Leuenberg Agreement of that time.
Other dialogues have also examined the potential for joining our church communion in addition to general theological discussions and collaboration on witness and service.
An Advisory Board (formerly "expert group") on Ecumenism supports these dialogues and the CPCE's other inter-confessional work commissioned by the Council.
Explorative dialogues with migration churches in London
For two years, it had only been possible to hold video conferences online – but finally the time had come, between 22 and 25 October, for the members of the Advisory Board on "Migration and Church Communion" to travel to London for a series of meetings and get-togethers. Besides internal discussions addressing the advisory board's work schedule and the theological concept of hospitality, amongst other things, the key focus was on meeting churches with roots outside Europe.
It is one of the CPCE's medium-term aims to establish closer relations with these kinds of churches, which have sprung up as a result of migration to Europe. With this in mind, exploratory talks have already been underway for a number of years with the Unification of Cherubim and Seraphim Churches (Europe Chapter).
After representatives of this independent African church, which is located predominantly throughout Nigeria and the neighbouring countries, had already visited the CPCE's office in Vienna and attended the General Assembly in Basle, as well as four representatives of the CPCE visiting London in 2017, the plan was to now enter into more detailed theological discussion. The participants spent two evenings examining the topics of spirituality and healing, along with the question of sacraments. In this context, the Cherubim and Seraphim Churches also questioned the lack of certain aspects in the traditional European churches – with regard to faith in the power of healing, lively worship and the role of dance.
On Sunday, the CPCE's delegates celebrated worship at the Christ the Resurrection Cherubim and Seraphim Church in Borough, led by Special Apostle Adejare Oyewole, the General Secretary of the Europe Chapter. The President of the CPCE, Dr John Bradbury, simultaneously the General Secretary of the United Reformed Church, was invited to deliver the sermon. The letter of intent was also signed during the service. Since several issues still need resolving on the path to the Cherubim and Seraphim becoming full members of the CPCE, the purpose of this joint document was to attest to both sides' continuing interest in deepening their relations. The service was of course followed by a delicious buffet.
Separate talks were also held with four representatives of the Presbyterian Church in Ghana (PCG), which runs its own "Presbytery of Europe" for the numerous congregations that have emerged in this geographical region. The Church, which dates back to the activities of the Basle Mission and developed relations with the Church of Scotland after the First World War, is a member of the World Communion of Reformed Churches and in many places has close relations with local churches in the CPCE. This first meeting served to establish whether dialogue should also be taken up with the PCG with a view to deepening cooperation and perhaps even leading to it joining the CPCE. The discussions went very well, signalling hope of further talks.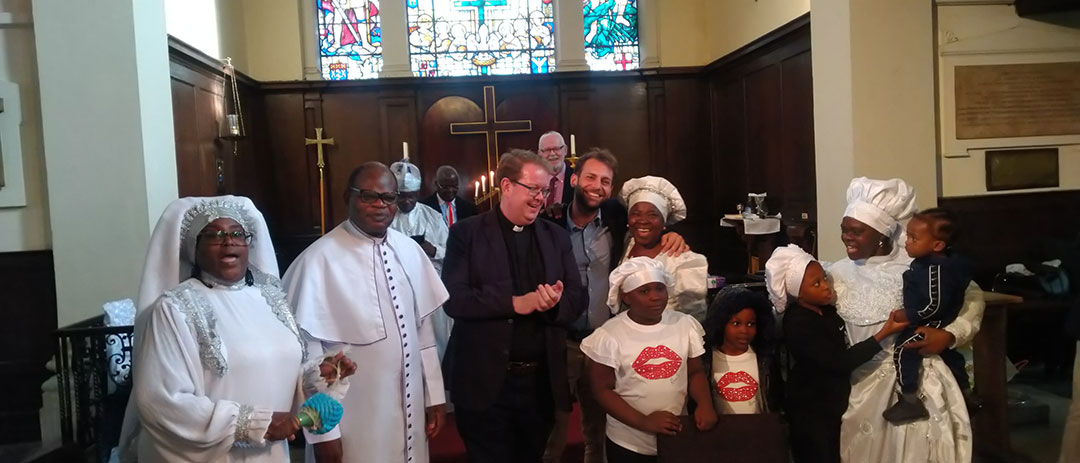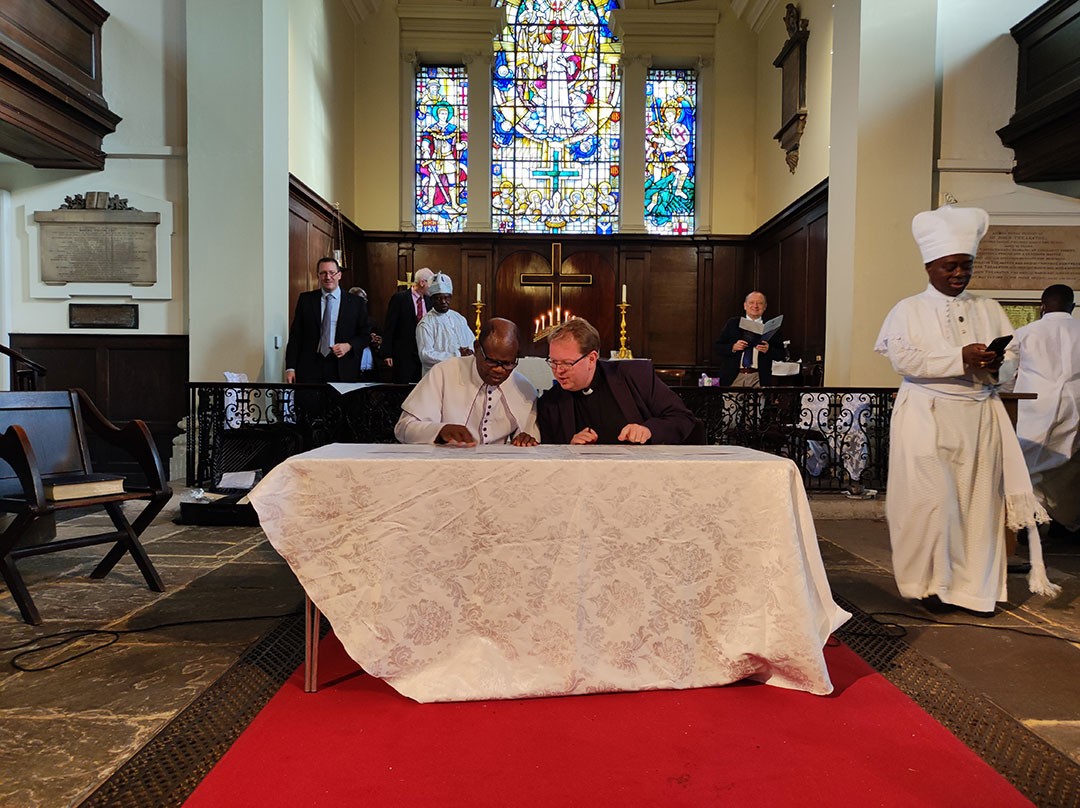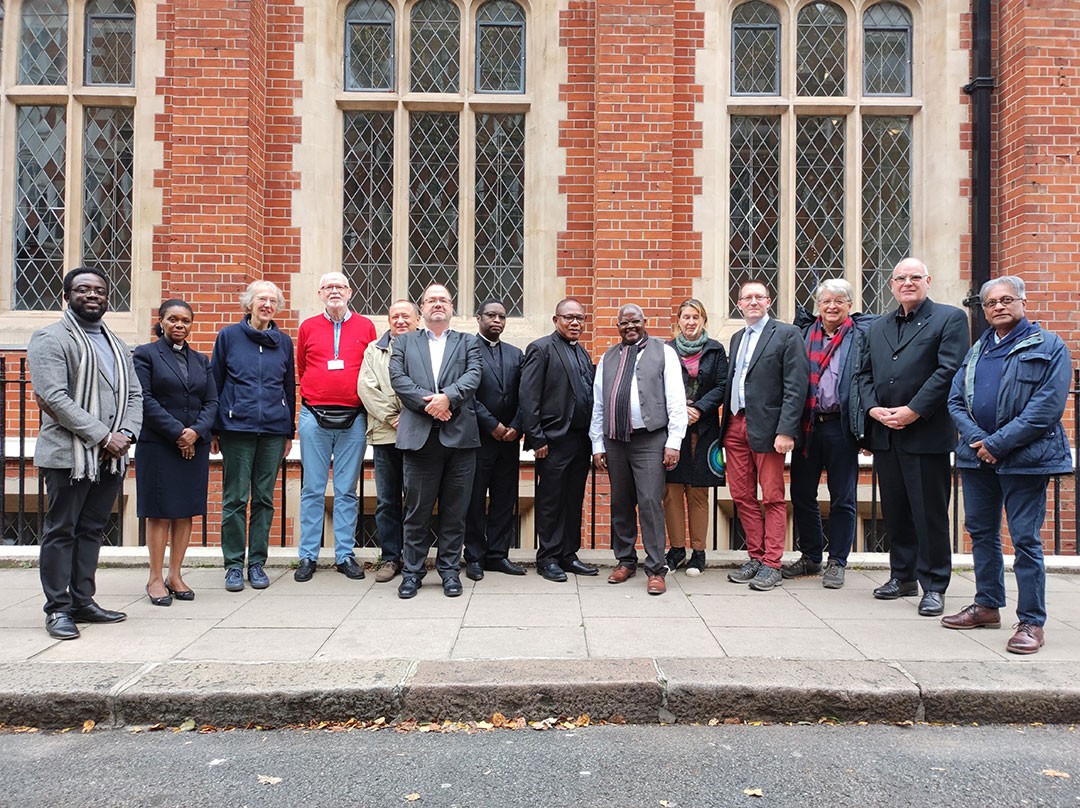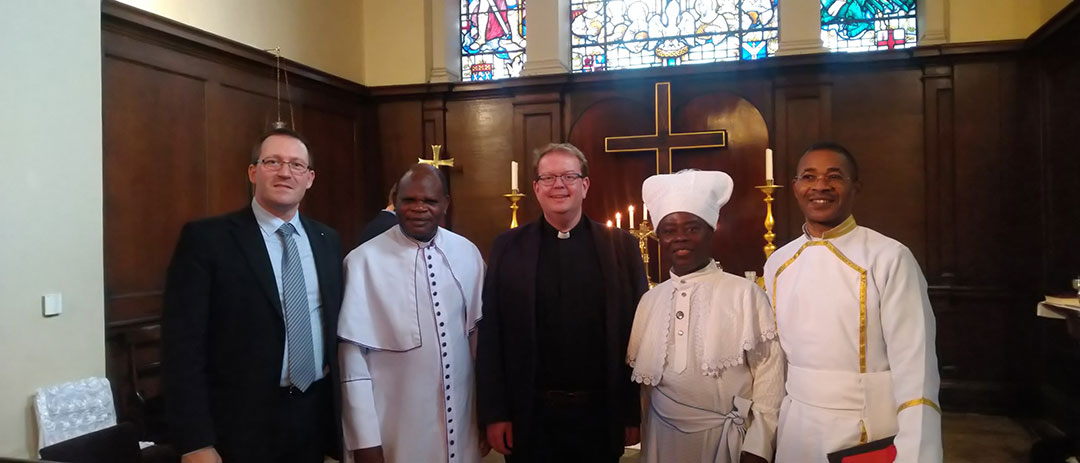 Dialogue with the Anglican Churches
In 1995, dialogue commenced between the churches of the Leuenberg Fellowship and the signatory churches to the Meissen and Porvoo Declarations at the Liebfrauenberg in Alsace. The focus was on illuminating areas of agreement and divergence and examining the subject of further coalescence among the Churches of Europe. The discussions were summarised and published as Leuenberg Documents Vol. 4.
After a more major consultation in 2004, unofficial talks took place between 2005 and 2011 resulting in the signing of a Memorandum of Affirmation and Commitment in 2012, in which both sides undertook to continue regular discussions. The first of these further consultations was held at Kloster Kappel in 2014.
Leuenberg Texts 4: Leuenberg, Meissen and Porvoo
Memorandum of Affirmation and Commitment
Dialogue with the European Baptist Federation
From 2002 to 2004, the CPCE conducted official discussions with the EBF to sound out the opportunities and obstacles towards reaching full church communion and generate fresh ideas for deepening fellowship and collaboration on many levels. The final text entitled "The Beginning of the Christian Life and the Nature of the Church" was presented to the member churches for scrutiny and embraced by the 2006 General Assembly.
The results of the dialogue were also published as Leuenberg Documents Vol. 9.
Further discussions culminated in an agreement designating the CPCE and the EBF "cooperating corporations" and committing them to closer collaboration.
Leuenberg Texts 9: Dialogue between the EBF and the CPCE
Dialogue with the Orthodox Churches
In November 2002, representatives of the Leuenberg Fellowship and the Orthodox Churches of the CEC convened for a consultation in Crete, focusing on ecclesiological issues. The starting point was the work "The Church of Jesus Christ" (CJC), which develops a Protestant ecclesiology and puts forward a possible model of "unity in reconciled diversity" for church unity, as founded on the Leuenberg Agreement. Representatives of the Orthodox Churches raised their questions about the study, which encouraged the Reformation and Orthodox Churches to discuss their respective perceptions of Church. This consultation laid important foundations for a process of understanding. The results were outlined in a communiqué and published as Leuenberg Documents Vol. 8.
In 2004 and 2006, the consultations were continued in Lutherstadt Wittenberg and in Istanbul (the seat of the Ecumenical Patriarch in Phanar). Practical issues were also addressed, such as reciprocal recognition of baptism. The texts were published as Leuenberg Documents Vol. 11. This topic was the focus of the fourth, and for the time being final, consultation in Vienna in 2008, which culminated in a joint communiqué recommending the Churches take steps towards recognising one another's baptism where this was not yet the case. The consultation was recorded in Leuenberg Documents Vol. 12.
Leuenberg Documents Vol. 8: Record of the Consultation in 2002
Leuenberg Documents Vol. 11: Record of the Consultations in 2004 and 2006
Leuenberg Documents Vol. 12: Record of the Consultation in 2008
Dialogue with the Pontifical Council for Promoting Christian Unity
A series of consultations was conducted between delegates from the Community of Protestant Churches in Europe and the Pontifical Council on Promoting Christian Unity from 2013 to 2017. In the process, rapprochement was identified regarding the perception of the Church (including its offices) and church unity based on Lumen Gentium (The Dogmatic Constitution on the Church, 1964) and the CPCE's document The Church of Jesus Christ (1994), which had not been ascertainable in earlier dialogues. This resulted in a jointly authored "Report on Church and Church Communion", which is due for publication in 2019 by Evangelische Verlagsanstalt and Bonifatius Verlag.
The General Assembly of the CPCE welcomed the report in September 2018. The Presidents of the CPCE and the Pontifical Council, Gottfried Locher and Cardinal Kurt Koch, signed a Declaration of Intent to Commence Joint Dialogue at the event.
Press release (in German) on the signing of the Declaration of Intent
Die GEKE steht in Partnerschaft und Dialog mit anderen Kirchen, Kirchengemeinschaften und Bünden in Europa und weltweit. Ein wichtiges Element der theologischen Arbeit sind die Dialoge mit anderen Konfessionsfamilien, die seit vielen Jahren mit Erfolg durchgeführt werden. Ein erster Dialog mit den europäischen methodistischen Kirchen führte 1994 zu einer Vereinbarung, auf deren Grundlage vier methodistische Kirchen sowie drei Konferenzen der United Methodist Church sich 1996 der damaligen Leuenberger Kirchengemeinschaft anschlossen.
Auch in weiteren Dialogen ging und geht es teils um die Möglichkeit des Beitritts zur Kirchengemeinschaft, teils auch allgemein um theologischen Austausch und Kooperation auf dem Gebiet von Zeugnis und Dienst.
Ein Fachbeirat (früher: Fachkreis) Ökumene begleitet die Dialoge und die weitere interkonfessionelle Arbeit der GEKE im Auftrag des Rates.
Begegnungen mit Migrationskirchen in London
Zwei Jahre lang waren nur Videokonferenzen möglich gewesen. Aber nun war es endlich so weit: Die Mitglieder des Fachbeirats "Migration und Kirchengemeinschaft" reisten nach London, wo vom 22. bis zum 25. Oktober eine Reihe von Sitzungen und Begegnungen stattfand. Neben den internen Beratungen, unter anderem über das Arbeitsprogramm des Fachbeirats und das theologische Konzept der Gastfreundschaft, standen vor allem Begegnungen mit Kirchen außereuropäischer Herkunft auf dem Programm.
Zu den mittelfristigen Zielen der GEKE gehört es, engere Beziehungen auch zu solchen Kirchen aufzubauen, die durch Migration nach Europa entstanden sind. Schon seit mehreren Jahren wird deshalb ein explorativer Dialog mit dem Unification of Cherubim and Seraphim Churches (Europe Chapter) geführt. Nach Besuchen von Vertretern dieser vor allem in Nigeria und den Nachbarländern verbreiteten unabhängigen afrikanischen Kirche im GEKE-Büro in Wien und auf der GEKE-Vollversammlung in Basel sowie einem Besuch von vier GEKE-Vertretern in London im Jahr 2017 sollte nun der theologische Austausch noch einmal vertieft werden. An zwei Abenden ging es um das Thema Spiritualität und Heilung, verbunden auch mit der Frage der Sakramente. Hier stellten die Cherubim and Seraphim auch die Frage nach Defiziten bei den traditionellen europäischen Kirchen – nicht nur im Vertrauen auf die Kraft der Heilung, sondern auch in der Lebendigkeit der Gottesdienste und der Rolle des Tanzens.
Am Sonntag feierten die Delegierten der GEKE den Gottesdienst in der Christ the Resurrection Cherubim and Seraphim Church in Borough mit, der von Special Apostle Adejare Oyewole, dem Generalsekretär des Europe Chapter, geleitet wurde. Der Präsident der GEKE, Dr. John Bradbury, zugleich Generalsekretär der United Reformed Church, war eingeladen, die Predigt zu halten. Im Gottesdienst wurde auch ein "letter of intent" unterzeichnet. Da bis zu einer vollen Mitgliedschaft der Cherubim and Seraphim in der GEKE noch einige Fragen abzuklären sind, sollte in diesem gemeinsamen Dokument festgehalten werden, dass beide Seiten weiterhin an einer Vertiefung der Beziehungen interessiert sind. Selbstverständlich gab es im Anschluss auch noch für alle ein köstliches Essen.
Ein weiteres Treffen fand mit vier Vertretern der Presbyterianischen Kirche in Ghana (PCG) statt, die für ihre mittlerweile recht zahlreichen Gemeinden in Europa ein eigenes "Presbytery of Europe" unterhält. Die Kirche, die auf die Tätigkeit der Basler Mission zurückgeht und nach dem Ersten Weltkrieg enge Beziehungen zur Church of Scotland unterhielt, gehört zur Weltgemeinschaft Reformierter Kirchen und hat auf lokaler Ebene vielerorts enge Beziehungen zu Kirchen der GEKE. Die erste Begegnung sollte nun zur Klärung dienen, ob auch mit der PCG ein Dialog aufgenommen werden sollte, um eine vertiefte Kooperation, evtl. sogar eine Mitgliedschaft in der GEKE zu erreichen. Die Gespräche waren sehr gut, eine Fortsetzung ist zu erhoffen.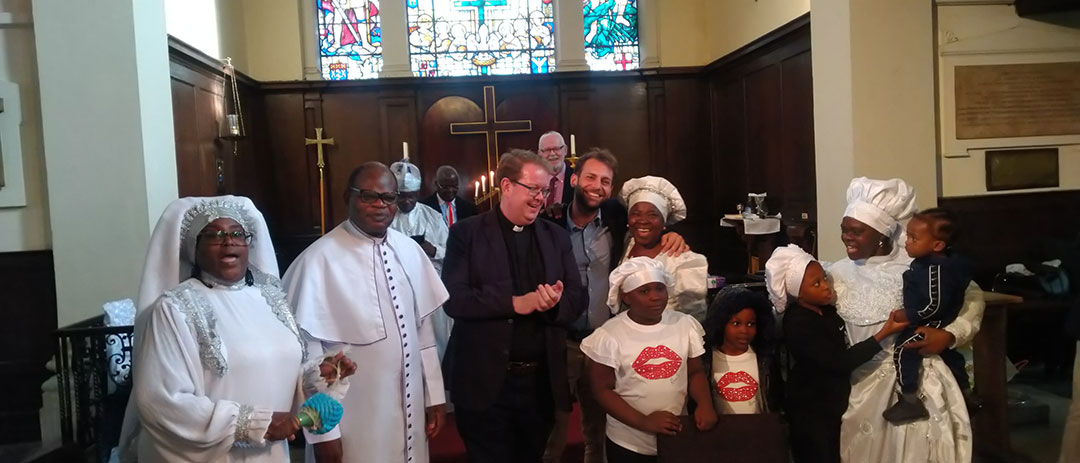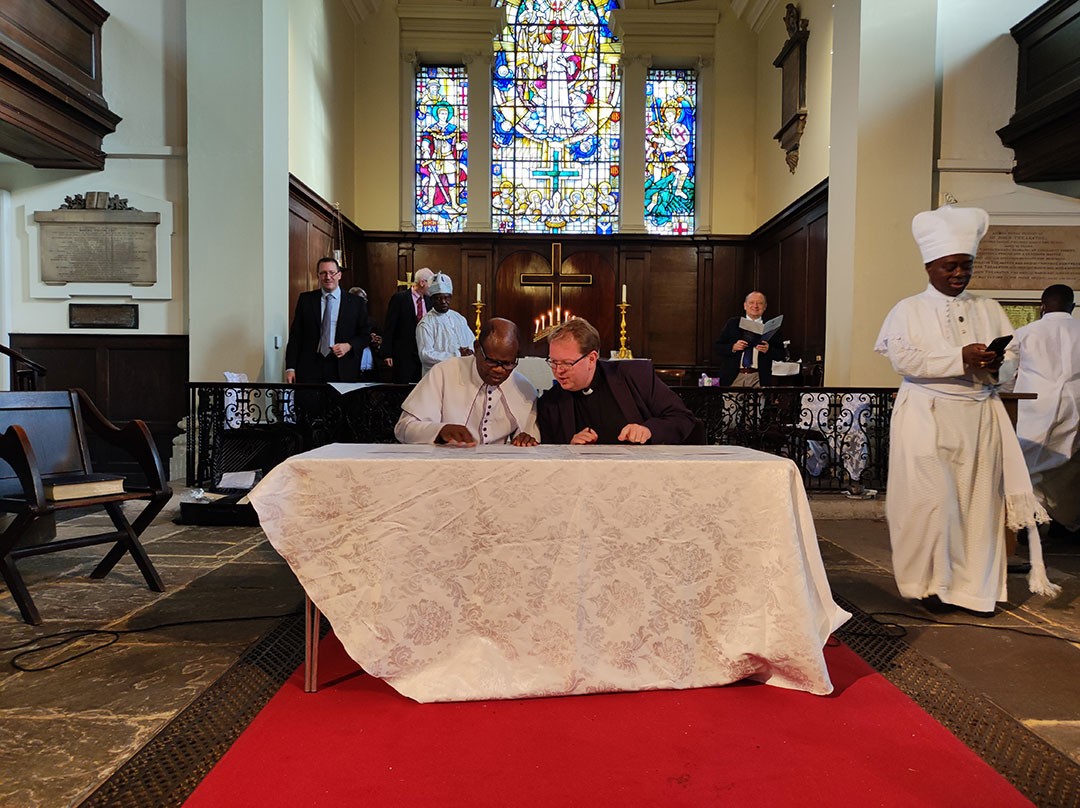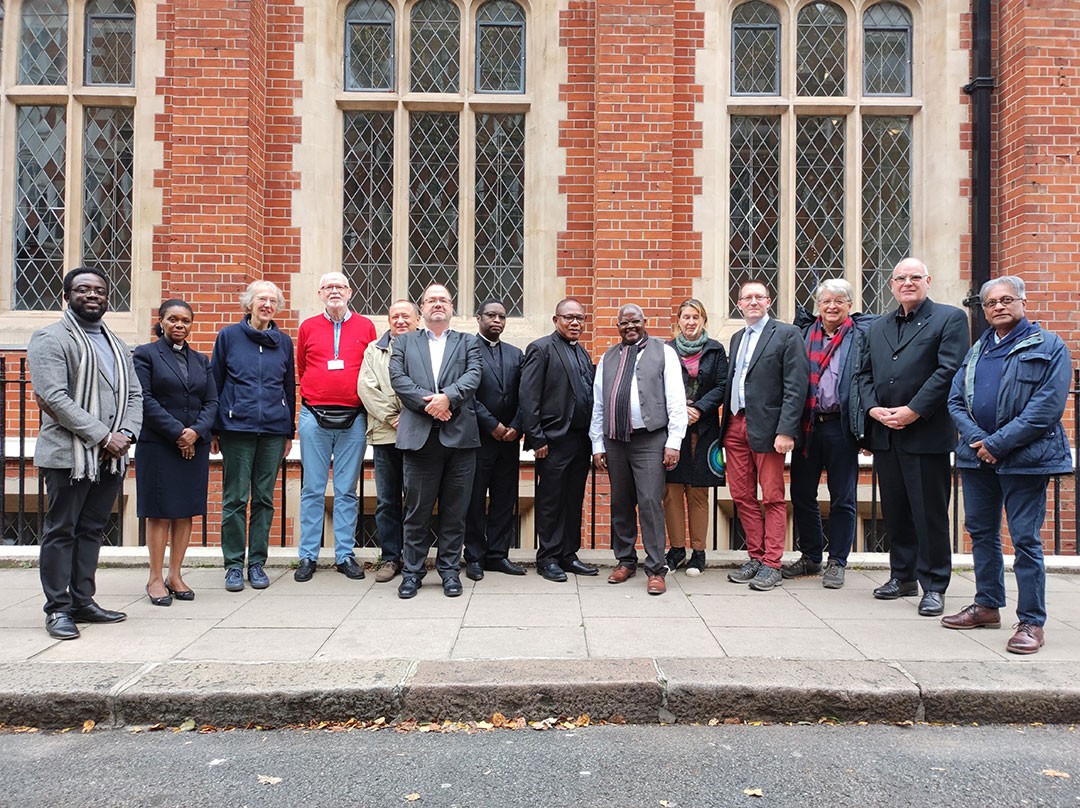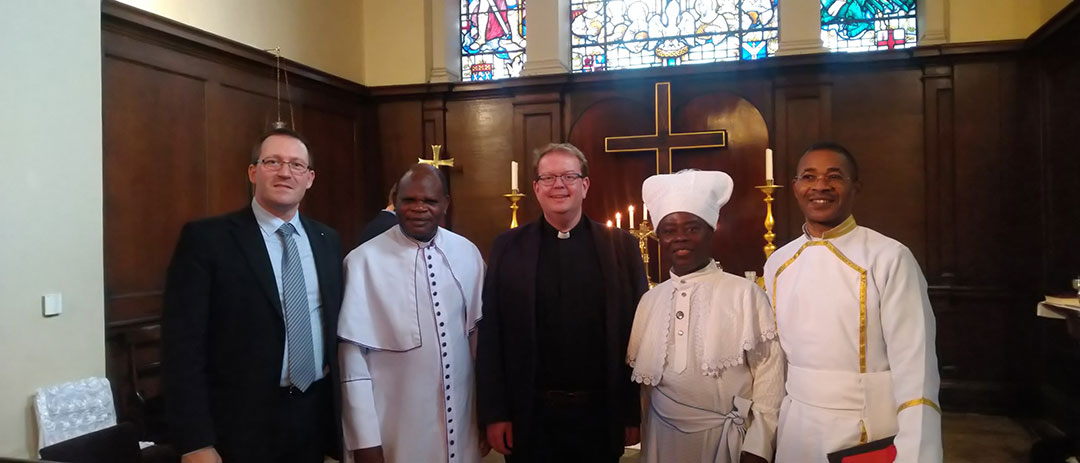 Dialog mit den anglikanischen Kirchen
Im Jahr 1995 begann auf dem Liebfrauenberg im Elsass der Dialog zwischen den an der Leuenberger Kirchengemeinschaft und den an der Meißen-Erklärung sowie der Porvoo-Erklärung beteiligten Kirchen. Inhalt dieser Gespräche war die Beleuchtung der jeweiligen Übereinkünfte und Trennungen sowie die Frage nach einem weiteren Zusammenwachsen der Kirchen in Europa. Die Gespräche wurden im Band 4 der Reihe "Leuenberger Texte" zusammengefasst und der Öffentlichkeit zugänglich gemacht.
Nach einer größeren Konsultation 2004 fanden zwischen 2005 und 2011 inoffizielle Gespräche statt, als deren Ergebnis 2012 ein Memorandum der Bestätigung und Verpflichtung unterzeichnet wurde. Es verpflichtet beide Seiten zu weiteren regelmäßigem Austausch. Eine erste Konsultation wurde 2014 im Kloster Kappel veranstaltet.
Leuenberger Texte 4: Leuenberg, Meißen und Porvoo
Memorandum der Bestätigung und Verpflichtung
Dialog mit der Europäischen Baptistischen Föderation
2002-2004 führte die GEKE offizielle Gespräche mit der EBF, um die Chancen und Hindernisse auf dem Weg zur vollen Kirchengemeinschaft auszuloten und Impulse zu vertiefter Gemeinschaft und Kooperation auf vielen Ebenen zu geben. Der Abschlusstext "Der Anfang des christlichen Lebens und das Wesen der Kirche" wurde den Mitgliedskirchen zum Studium zugeleitet und von der Vollversammlung 2006 positiv gewürdigt.
Die Ergebnisse des Dialoges wurden außerdem im Band 9 der Reihe "Leuenberger Texte" veröffentlicht.
Ergebnis der weiteren Gespräche war eine Vereinbarung, durch die die GEKE und die EBF zu "miteinander kooperierenden Körperschaften" wurden und sich zu engerer Zusammenarbeit verpflichten.
Leuenberger Texte 9: Dialog EBF – GEKE
Text der Vereinbarung von 2010
Dialog mit den orthodoxen Kirchen
Im November 2002 trafen sich Vertreter der Leuenberger Kirchengemeinschaft und der orthodoxen Kirchen der KEK zu einer Konsultation auf Kreta. Gegenstand der Gespräche waren Fragen der Ekklesiologie. Ausgangspunkt bildete die Studie "Die Kirche Jesu Christi" (KJC), mit der eine protestantische Ekklesiologie entwickelt und, aufbauend auf der Leuenberger Konkordie, ein mögliches Modell für eine kirchliche Einheit, die "Einheit in versöhnter Verschiedenheit", vorgestellt wurde. Vertreter der orthodoxen Kirchen stellten ihre Anfragen an die Studie, so dass das Verständnis der Kirche aus Sicht der Kirchen der Reformation und der Orthodoxie angesprochen werden konnten. Die Konsultation legte dabei wichtige Grundsteine der Verständigung. Die Ergebnisse wurden in einem Communiqué und im Band 8 der Reihe "Leuenberger Texte" veröffentlicht.
2004 und 2006 wurden die Konsultationen in Lutherstadt Wittenberg und in Istanbul (am Sitz des Ökumenischen Patriarchen in Phanar) fortgesetzt. Dabei wurden auch praktische Themen wie die gegenseitige Anerkennung der Taufe berücksichtigt. Die Texte wurden als "Leuenberger Text 11" veröffentlicht. Dieses Thema bildete den Schwerpunkt der vierten und zunächst letzten Konsultation in Wien 2008. Sie endete mit einem gemeinsamen Kommuniqué, im dem den Kirchen empfohlen wird, Schritte zu einer gegenseitigen Anerkennung der Taufe zu gehen, wo dies noch nicht geschehen ist. Die Konsultation ist im "Leuenberger Text 12" dokumentiert.
Leuenberger Text 8: Dokumentation der Konsultation von 2002
Leuenberger Text 11: Dokumentation der Konsultationen von 2004 und 2006
Leuenberger Text 12: Dokumentation der Konsultation von 2008
Dialog mit dem Päpstlichen Einheitsrat
Zwischen 2013 und 2017 fand eine Reihe von Konsultationen zwischen Delegierten der Gemeinschaft Evangelischer Kirchen in Europa und des Päpstlichen Rats zur Förderung der Einheit der Christen statt. Dabei wurden, ausgehend von der Kirchenkonstitution Lumen Gentium (1964) und dem GEKE-Dokument Die Kirche Jesu Christi (1994), Annäherungen im Verständnis der Kirche (einschließlich ihrer Ämter) und der kirchlichen Einheit festgestellt, die frühere Dialoge noch nicht formulieren konnten. Als Ergebnis wurde ein gemeinsamer "Bericht über Kirche und Kirchengemeinschaft" erarbeitet, der 2019 bei der Evangelischen Verlagsanstalt und dem Bonifatius-Verlag erscheinen wird.
Die Vollversammlung der GEKE im September 2018 begrüßte den Bericht. Die Präsidenten von GEKE und Päpstlichem Einheitsrat, Gottfried Locher und Kurt Kardinal Koch, unterzeichneten während der Vollversammlung eine Erklärung über die Absicht, einen offiziellen Dialog aufzunehmen.