The CPCE is the communion of the protestant churches. 96 lutheran, methodist, reformed and united churches from over thirty countries in Europe and South America belong to it. With that the CPCE represents altogether around 50 million Protestants.
The CPCE exists thanks to the Leuenberg Agreement of 1973. It concluded: churches are allowed to be different because they appeal to the Gospel as their common basis. That sounds simple, but has far-reaching consequences: since then a lutheran minister can preach from a reformed pulpit or a French minister lead a congregation in Germany.
The CPCE (till 2003 "Leuenberg Church Fellowship") has a clear structure. About every six years a General Assembly decides on the basic lines of its work. Between the General Assemblies the 13-member Council, headed by a 3-member Presidium, guides the work, which is coordinated by the office in Vienna.
Structure
General Assemblies take place about every six years, in which basic outlines of future work, new subjects for theological conversations are determined and the new Executive Committee elected. The last Assemblies were:
2012 Florence
2006 Budapest
2001 Belfast
1994 Vienna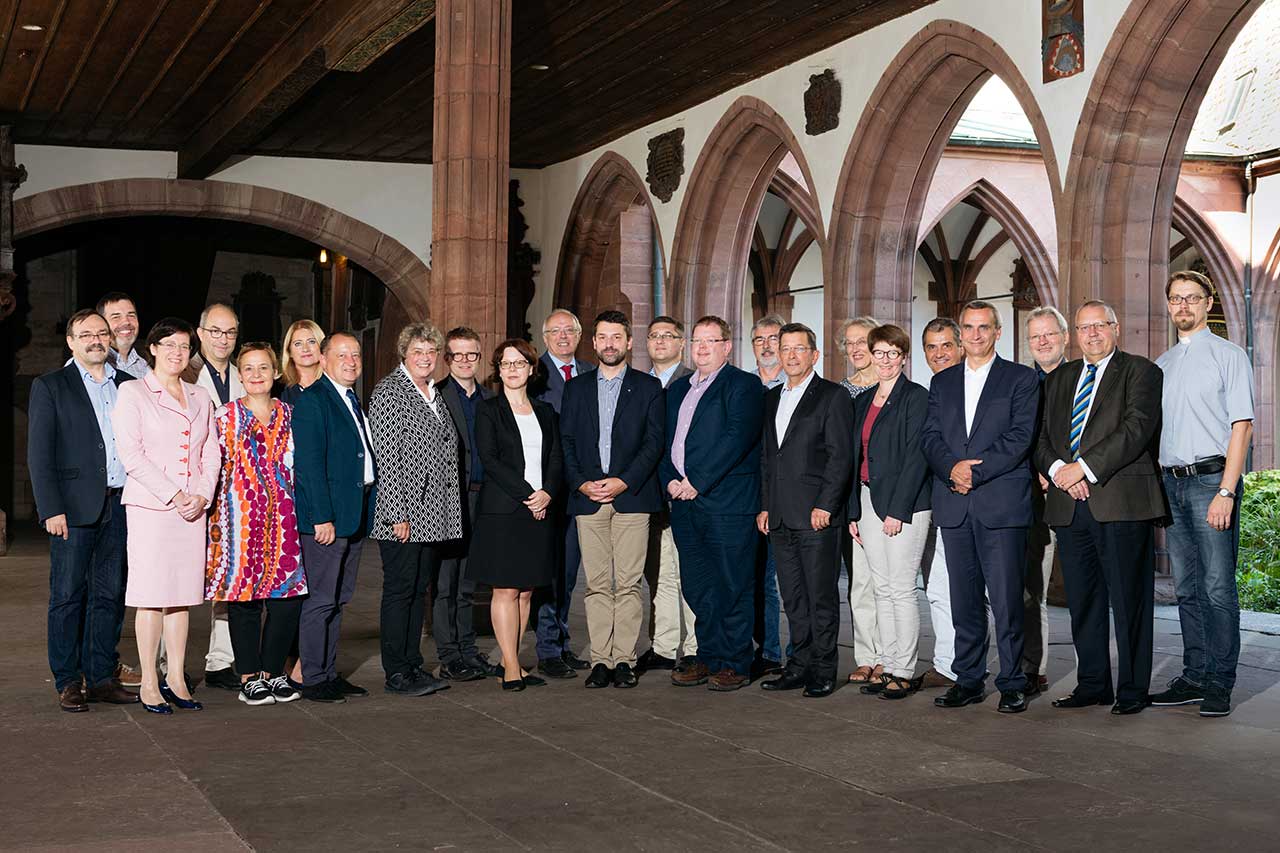 The Council
The Council, led by the Presidium, is responsible for the work between the General Assemblies. The General Assembly elected a new Council on 14.9.2018.:  Members of the Council (Substitute members)
Christian Albecker, France, Lutheran (Agnès von Kirchbach, France, United)
Ingrid Bachler, Austria, Lutheran (Daniel Zikeli, Romania, Lutheran)
John Bradbury, United Kingdom, Reformed (Jan-Gerd Heetderks, Netherlands, United)
Marcin Brzoska, Poland, Lutheran (Thomas-Andreas Põder, Estonia, Lutheran)
Pawel Gajewski, Italy, Reformed (Dimitris Boukis, Greece, Reformed)
Rita Famos, Switzerland, Reformed, (Serge Fornerod, Switzerland, Reformed)
Michael Martin, Germany, Lutheran (Klaus Rieth, Germany, Lutheran)
Georg Plasger, Germany, Reformed (Ulrike Trautwein, Germany, United)
Miriam Rose, Germany, Lutheran/United (Frank Kopania, Germay, United)
Barbara Rudolph, Germany, United (Susanne Bei der Wieden, Germany, United)
Ulla Schmidt, Denmark, Lutheran (Tron Fagermoen, Norway, Lutheran)
Klára Tarr Cselovszky, Hungary, Lutheran (Sándor Fazakas, Hungary, Reformed)
Annette Gruschwitz, Germany, Methodist (Jørgen Thaarup, Denmark, Methodist)
The Presidium consists of Miriam Rose, Marcin Brzoska and John Bradbury.
To make church communion possible it is important to come to grips with the theological foundations of ecclesial community. Internationally composed doctrinal dialogue groups concern themselves with differences in teaching and central problems of the church in the present.
The CPCE is at the pulse of the times. In the specialist circles on Ethics and Ecumenics it has two expert bodies which enable it to speak on important ecclesiastical and political developments and bring the position of the churches into the channels of politics and civil society.
Church communion takes place in the meeting between people of protestant confession from different cultural and church environments. In consultations and conferences the CPCE offers a framework for such meetings to take place.
Church communion must be rooted locally. Within the CPCE this is done by the regional groups, which each gather together a segment of the member churches. They enable cooperation across boundaries, anchor the CPCE in their own context and bring the specific experiences of their regions into the work of the CPCE.
The CPCE has something to say. It has given important impulses to ecumenism. With its study, "The Church of Jesus Christ", a comprehensive protestant understanding of the church was formulated for the first time. The following study, "Church and Israel", made this teaching fruitful for the relation between Christians and Jews. In recent years there were added weighty statements on ethical decision-making and on the missionary task of the churches.
The CPCE sets signs. Presidium and Council have repeatedly in the last years pointedly introduced a protestant position into important debates in society at large. Among these are the process of European unification, human rights, intercultural dialogue and the question of a "just war" as well as religious freedom and liberty of opinion.
The CPCE is a community of churches in fellowship. By signing the Leuenberg Agreement these churches commit themselves to "common witness and service" and work together to come closer to each other wherever possible in spite of existing differences.
The CPCE is a worshipping communion. The churches celebrate services and the Lord's Supper together; they recognise each other's baptism and ordination. They exchange views on their liturgical traditions. And they sing from the joint European hymn book of the CPCE, Colours of Grace.
The CPCE is the joint voice of Protestants. Many of its members are minority churches, fulfilling their task under sometimes difficult conditions. In a changing Europe the CPCE strengthens and unites the voice of the Protestants over against the political institutions in Europe.
Regional groups
The CPCE consists of 94 member churches. Many churches have combined in regional groups to strengthen collaboration between the churches and in so doing enrich the life of the churches. The regional groups consist of:
North West Group
South East Group
Forum of the Churches of the Northern Region
Conference of the Churches on the Rhine
Conférence des Eglises protestantes des Pays latins d'Europe CEPPLE
Member Churches
98 churches have signed the Leuenberg Agreement since 1973 as so-called signatory churches. Seven Methodist churches belong to the Community of Protestant Churches in Europe on the basis of a "Joint Declaration to Church Fellowship." As a result of several mergers, disbanding (Federation of Ev. Ref. Congregations in the GDR) and territorial division (Reformed Christian Church in Yougoslavia), there are at present 94 churches out of 105 member churches. Out of five Scandinavian Lutheran churches, which have participated in the Leuenberg Church Fellowship since 1973 as so-called participating churches, two churches (Denmark and Norway) have lately signed the Leuenberg Agreement.
Die GEKE ist die Gemeinschaft der evangelischen Kirchen in Europa. 96 lutherische, methodistische, reformierte und unierte Kirchen aus über dreissig Ländern Europas und Südamerikas gehören dazu. Die GEKE vertritt damit insgesamt rund 50 Millionen Protestanten.
Die GEKE gibt es dank der Leuenberger Konkordie aus dem Jahr 1973. Sie stellt fest: Kirchen dürfen unterschiedlich sein, da sie auf dem Evangelium als gemeinsamer Basis beruhen. Was sich einfach anhört, hatte weitreichende Konsequenzen: Seither darf ein lutherischer Pfarrer auf einer reformierten Kanzel predigen oder eine französische Pfarrerin eine Gemeinde in Deutschland leiten.
Die GEKE (bis 2003 "Leuenberger Kirchengemeinschaft") hat eine klare Struktur. Eine Vollversammlung bestimmt etwa alle sechs Jahre die Grundlinien der Arbeit. Der 13-köpfige Rat, geführt durch ein dreiköpfiges Präsidium, leitet zwischen den Vollversammlungen die Arbeit, die von der Geschäftsstelle in Wien koordiniert wird.
Struktur
Eine Vollversammlung bestimmt etwa alle sechs Jahre die Grundlinien der Arbeit und wählt den Rat für die nächste Legislatur. Die letzten Vollversammlungen fanden statt:
2012 Florenz
2006 Budapest
2001 Belfast
1994 Wien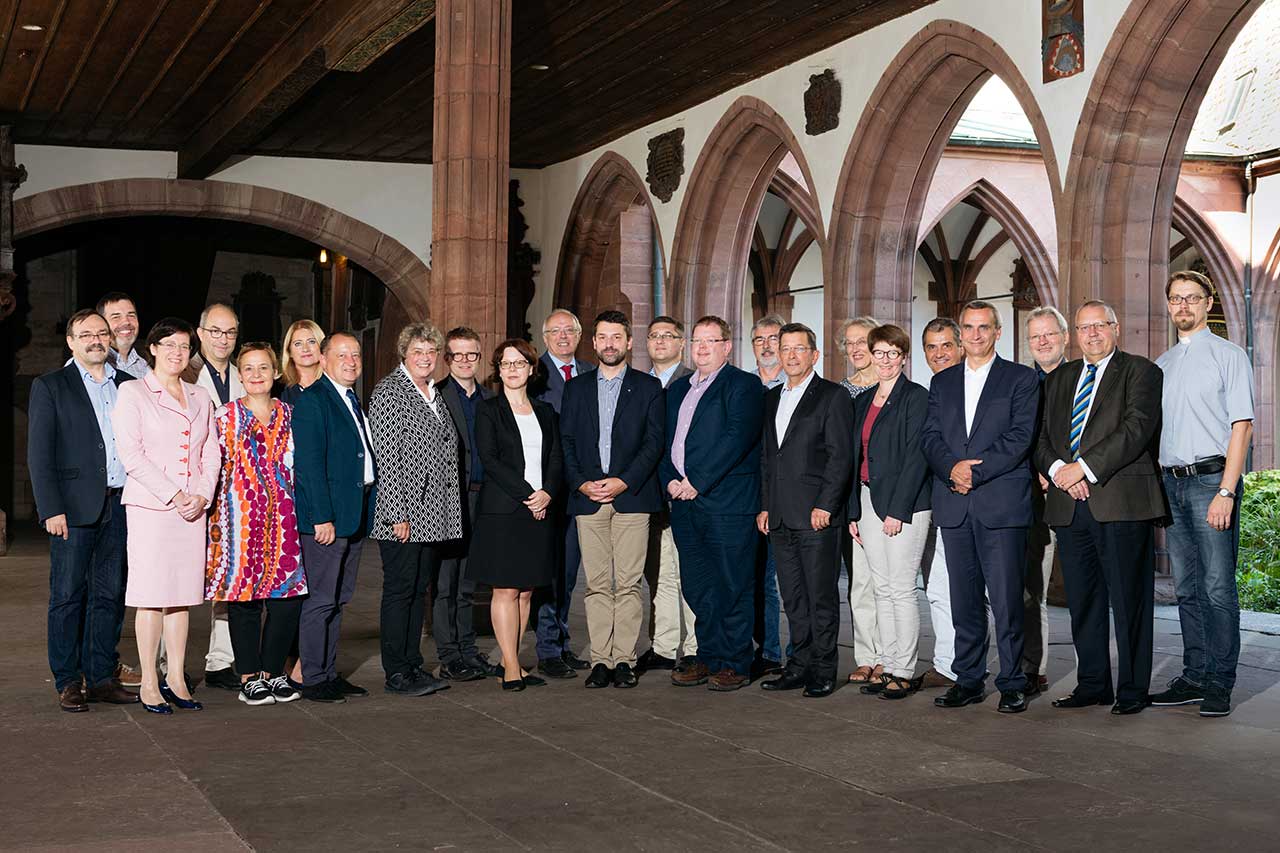 Der Rat
Der 13-köpfige Rat, geführt durch ein dreiköpfiges Präsidium, leitet zwischen den Vollversammlungen die Arbeit. Die Vollversammlung in Basel wählte am 14.9.2018 den folgenden Rat:  Ratsmitglieder (Stellvertretung)
Christian Albecker, Frankreich, Lutherisch (Agnès von Kirchbach, Frankreich, Uniert)
Ingrid Bachler, Österreich, Lutherisch (Daniel Zikeli, Rumänien, Lutherisch)
John Bradbury, Grossbritannien, Reformiert (Jan-Gerd Heetderks, Niederlande, Uniert)
Marcin Brzoska, Polen, Lutherisch (Thomas-Andreas Põder, Estland, Lutherisch)
Pawel Gajewski, Italien, Reformiert (Dimitris Boukis, Griechenland, Reformiert)
Rita Famos, Schweiz, Reformiert (Serge Fornerod, Schweiz, Reformiert)
Michael Martin, Deutschland, Lutherisch (Klaus Rieth, Deutschland, Lutherisch)
Georg Plasger, Deutschland, Reformiert (Ulrike Trautwein, Deutschland, Reformiert)
Miriam Rose, Deutschland Reformiert/Uniert (Frank Kopania, Deutschland, Uniert)
Barbara Rudolph, Deutschland, Uniert (Susanne Bei der Wieden, Deutschland, Uniert)
Ulla Schmidt, Dänemark, Lutherisch (Tron Fagermoen, Norwegen,  Lutherisch)
Klára Tarr Cselovszky, Ungarn, Lutherisch (Sándor Fazakas, Ungarn, Reformiert)
Annette Gruschwitz, Deutschland, Methodistisch (Jørgen Thaarup, Dänemark, Methodistisch)
Das Präsidium bilden Miriam Rose, Marcin Brzoska und John Bradbury.
Um Kirchengemeinschaft sein zu können, ist die Auseinandersetzung mit den theologischen Grundlagen kirchlicher Gemeinschaft nötig. International besetzte Lehrgesprächsgruppen beschäftigen sich mit Lehrunterschieden und zentralen Problemen der kirchlichen Gegenwart.
Die GEKE ist am Puls der Zeit. Mit dem Fachkreis Ethik und dem Fachkreis Ökumene hat sie zwei Expertengremien, die sie zu wichtigen kirchlichen und politischen Entwicklungen sprachfähig machen und die Position der Kirchen in die politischen und zivilgesellschaftlichen Kanäle einbringen.
Kirchengemeinschaft geschieht in der Begegnung von Menschen protestantischer Konfession aus kulturell und kirchlich verschiedenem Umfeld. In Konsultationen und Tagungen bietet die GEKE einen Rahmen, in dem sich solche Begegnungen vollziehen.
Kirchengemeinschaft muss vor Ort verwurzelt sein. Innerhalb der GEKE wird dies durch die Regionalgruppen geleistet, die jeweils einen Teil der Mitgliedskirchen zusammenfassen. Sie leisten grenzüberschreitende Zusammenarbeit, verankern die GEKE in ihrem Kontext und bringen die spezifischen Erfahrungen der Regionen in die Arbeit der GEKE ein.
Die GEKE sagt etwas aus. Für die Ökumene hat sie wichtige Impulse gebracht. Mit der Studie "Die Kirche Jesu Christi" wurde erstmals eine gesamtevangelische Lehre von der Kirche formuliert. Die Folgestudie "Kirche und Israel" hat diese Lehre dann für das Verhältnis von Christen und Juden fruchtbar gemacht. In den letzten Jahren sind wichtige Aussagen zur Entscheidungsfindung in ethischen Fragen und zum missionarischen Auftrag der Kirchen hinzugekommen.
Die GEKE setzt Zeichen. Präsidium und Rat haben in den letzten Jahren wiederholt pointiert eine evangelische Position in wichtige gesamtgesellschaftliche Diskussionen eingebracht. Dazu zählen der europäische Einigungsprozess, die Menschenrechte, der interkulturelle Dialog, die Frage nach einem "gerechten Krieg" sowie die Religions- und Meinungsfreiheit.
Die GEKE ist Kirchengemeinschaft. Mit der Unterzeichnung der Leuenberger Konkordie verpflichten sich die Mitgliedskirchen zum "gemeinsamen Zeugnis und Dienst" und arbeiten gemeinsam daran, sich trotz der bestehenden Unterschiede einander anzunähern, wo immer dies möglich ist.
Die GEKE ist Gottesdienstgemeinschaft. Die Kirchen feiern gemeinsam Gottesdienst und Abendmahl, sie anerkennen Taufe und Ordination. Sie tauschen sich über ihre liturgischen Traditionen aus. Und sie singen aus dem gemeinsamen europäischen Gesangbuch der GEKE "Colours of Grace".
Die GEKE ist die gemeinsame Stimme der Protestanten. Viele Mitgliedskirchen sind Minderheitskirchen, die unter teils schwierigen Bedingungen ihren Auftrag wahrnehmen. In einem sich verändernden Europa stärkt und vereint die GEKE die Stimme der Protestanten gegenüber den politischen Institutionen in Europa.
Regionalgruppen
Die GEKE besteht aus 94 Mitgliedskirchen. Um die Zusammenarbeit unter den Kirchen zu stärken und dadurch das Leben der Kirchengemeinschaft zu bereichern, haben sich viele Kirchen zu Regionalgruppen zusammengeschlossen.
Nordwestgruppe
Südostgruppe
Forum der Kirchen der Nordregion
Konferenz der Kirchen am Rhein
Konferenz der romanischsprachigen Kirchen Europas CEPPLE
Mitgliedskirchen
Seit 1973 haben 98 Kirchen die Leuenberger Konkordie als sog. Signatarkirchen unterzeichnet. Sieben methodistische Kirchen gehören der Gemeinschaft Evangelischer Kirchen in Europa aufgrund einer "Gemeinsamen Erklärung zur Kirchengemeinschaft" an.Durch Zusammenschluss, Auflösung oder Gebietsteilung beträgt die Zahl der real existierenden Kirchen z. Zt. 94 – von den ursprünglich 105 Unterzeichnerkirchen. Von den fünf skandinavischen lutherischen Kirchen, die seit 1973 an der Leuenberger Kirchengemeinschaft als sog. beteiligte Kirchen mitarbeiteten, haben mittlerweile zwei Kirchen (Dänemark und Norwegen) die Leuenberger Konkordie unterzeichnet.